About Atlantis
Atlantis Investment Management was founded in London in 1994 by three star ex-Schroders fund managers. Ms Yang Liu, now Atlantis' Chairperson and Chief Investment Officer, joined Atlantis in 2002 as a Fund Manager. As Yang grew to become one of the most recognized names in China investing, she acquired the Atlantis group in 2009. Under Yang's direction, Atlantis' center of gravity has shifted to China. Our headquarters is now in Hong Kong, where we occupy the 35th floor of the Centrium skyscraper high above the Central district.
Since inception, Atlantis has been dedicated exclusively to Asian equity strategies.
Our two main investment focuses, China and Asia ex-Japan, are operated independently and led by our dedicated portfolio managers. While the non-investment functions (risk management, legal and compliance, trading, operations, marketing and investor relations) are provided from Hong Kong, our investment and research professionals are based regionally in Asia – Hong Kong, Shanghai and Singapore. This enables our investment professionals to focus on what they do best and provide us our key advantages: local, street-level intelligence.
Atlantis currently offers a wide range of services for global institutional investors through the Atlantis funds and via segregated mandates.
Mission & Values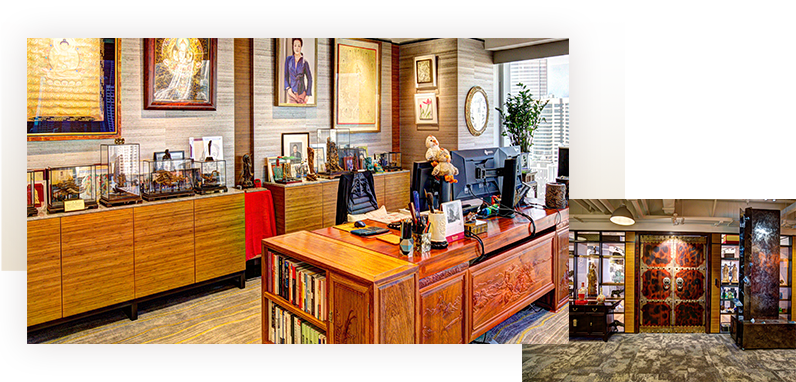 Independence and Collaboration
Atlantis Investment Management has been independent and 100% owner-managed since our founding, helping us avoid conflicts of interest. This means Atlantis can perform our own independent research, offer investment services to our clients without the entanglements of the global firms and accomplish what is best for our clients.
Even though the two main strategies are led by different portfolio managers, our research analysts work in collaboration. We believe that through continuous discussion and teamwork, experience and knowledge can be shared and enhanced.
Clients' Interests, Integrity and Trust
Since Atlantis' beginnings, clients' interests have always been our top priority in order for us to build and maintain long-lasting partnerships with our clients over time. The alignment of interests of investors, Atlantis and its employees is the key to success while upholding the highest ethical standards and integrity. Thus, trust is developed and merited.
Institutionalized Infrastructure
While Atlantis is a boutique, we have devoted significant resources to institutionalize our infrastructure with the systems required of an asset manager that has served global institutions such as pension funds, foundations and endowments, sovereign wealth funds, insurance companies, financial institutions and other institutions. Our teams are staffed in-house for risk management, legal and compliance, equity trading, operations, marketing and investor relations as well as corporate functions such as finance, information technology and human resources.
Milestones
1994

Atlantis is founded in London by 3 ex-Schroders fund managers

1999

Atlantis launches the 1st UCITS fund family dedicated to pan-Asian investing - the Atlantis Asian Fund

2002

Yang Liu joins Atlantis in April 2002

2003

Atlantis launches the 1st UCITS fund dedicated to China investing - the Atlantis China Fund

2007

Atlantis launches the 1st public investment fund dedicated to investment in the Chinese healthcare sector - the Atlantis China Healthcare Fund

2009

Star Asia ex-Japan manager Joseph Wat takes over as adviser to the Atlantis Asian Fund

2010

Yang Liu formed Atlantis Capital Holdings Limited and takes 100% ownership of the Group.

2015

Yang Liu launches world's first private equity fund dedicated to Chinese Culture and Entertainment

2017

Atlantis' global headquarters takes over 35th floor of the Centrium

2018

Atlantis launches systematic strategies funds dedicated to identify and exploit investment opportunities by means of a mathematically modelled approach.

2019

Atlantis celebrates its 25th year in business

2020

Atlantis China Healthcare Fund Won Investor Choice "Best Smaller Fund"

2021

Atlantis China Healthcare Fund Won Investor Choice "Best Fund under $100m in Emerging Markets"
Team
Investment Team
Non-Investment Team